Training to protect Oslo's residents
"Exercise Capital" will take place from 12–15 September. The goal of the exercise is to train for crisis situations. You will notice a greater military presence in the city.
News / Published: 11 September 2023 / By the Emergency Planning Agency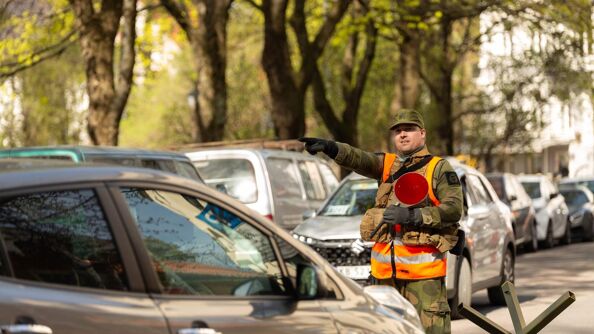 Around 3,000 Home Guard soldiers will be training in and around Oslo. During the exercise, soldiers will be visible and traffic may be affected in certain areas.
The exercise will start late in the evening on 11 September and will last until 15 September.
Soldiers will be on patrol, operating road checkpoints and securing various sites, both during the day and at night. You may also here some blank rounds of ammunition being fired (pyrotechnics). This will mainly happen during the day, outside densely populated areas, and will be announced in advance.
The exercise will be well signposted to ensure that the public is aware that this is actually an exercise.
Minimum inconvenience to residents
The exercise will be conducted in such a way that any inconvenience to the civilian population will be minimised to the greatest extent possible.
"This is a valuable exercise for the city and will strengthen cooperation between key actors. One of the most important goals of the exercise is to clarify responsibilities, roles and authority among all defence actors, as well as to improve communication and coordination and cooperation capacity across agencies in the region," says Ann Kristin Brunborg, Head of the Emergency Planning Agency.
Training to protect the population
The purpose of the exercise is to develop the Norwegian Armed Forces's ability to protect the population and secure important infrastructure and societal functions in a crisis situation. The exercise is being organised by Oslo and Akershus Home Guard District 02.
The City of Oslo will be participating in the exercise through the Emergency Planning Agency and the Oslo Port Authority.
In addition to the Norwegian Home Guard, the exercise will include 830 Civil Defence personnel. Participants will also include personnel from the Red Cross, the County Governor, Viken County Municipality, Oslo Port Authority, the Norwegian Public Roads Administration, the Storting, Bane NOR and others.
Most of the exercise will take place in the City of Oslo and the municipalities of Bærum, Ullensaker and Lillestrøm.